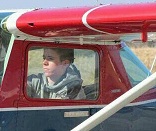 Thanks to Dave and Mary for helping me finish my Private Pilot training. This was the culmination of a 46 year project and I finally reached my goal. Great people and excellent equipment. Dave has his aircraft equipped with modern avionics and he maintains the aircraft in great shape.Thanks again.
Mark W Reising
Dave is an excellent instructor that knows the technical aspects of learning to fly plus the unique ability to teach that information with his preflight briefing, syllabus, and post flight briefing.
Thanks again
Vic Metz
The owner Dave has a real passion for flying, Dave is a wealth of information. Dave is a great instructor.
Pete is fun to fly with, we always have a blast.
So glad I found Dave and Pete. I left Clermont county, Sportys 6 mos ago and have not looked back.
Can't wait to Finnish next spring or summer depending on the Faa.
If you are looking for great flight instruction this is the place to be.
David Earl
Due to an "incident," in 2015, the FAA required a 709 check ride. Upon a referral from an EAA chapter member, I took instruction from Dave Hoover. Dave took the time to access my skills and then provided appropriate training for my success. I was impressed with his efforts to not only evaluate my learning curve, but also with his genuine concern to make me a much safer pilot. I am very grateful to Dave for his patience, encouragement and steadfast determination to help me succeed and to vastly improve my skills. As a byproduct of my training, I have found that flying is now more enjoyable as I have gained confidence in my ability to be a safer pilot through Dave's tutelage.
Alan Kenkel
"The best flight instruction you could find around. I've been to four different flight instructors in two different states and the one that made the difference was Great Plains. I passed my check ride the first time, but more than that I feel like I understand everything better since I came here. Definitely give them a call if you want to get into flying."
Jordan Spier
"Looking for lessons give them a try"
Leslie Vancil
"Great place and the owner is a great guy"
Susan Davis
5 star, Dave is an excellent flight instructor! I've tried other schools but this is by far the best training I've received. If you want to become a pilot this is THE place to learn.
Brandon McCloud
"Planes are well kept. Dave is a really nice guy and has a true love of flying".
Vernon Wells
I am proud to say I am a student at Great Plains Enterprises. My flight instructor, David, is an experienced and dedicated CFI. Those first few flights can feel a bit overwhelming but his patience helps to ease your worries and allows you to focus on the task at hand. It is obvious that he truly wants you to succeed and will help you do it! I have no doubt that I am getting high quality training and am learning to be a safe and knowledgeable pilot.
Heather Jenkins
"Great plane. My son enjoys the freedom that earning a pvt pilot gives him. The responsibility of plotting a trip and flying it solo is priceless."
Bill L.
"I really enjoyed flying with you. My first takeoff was exhilarating. I particularly like doing stalls and steep turns. Landings were not as hard as I thought they would be. Thanks for your patience."
Tyler Schmidt