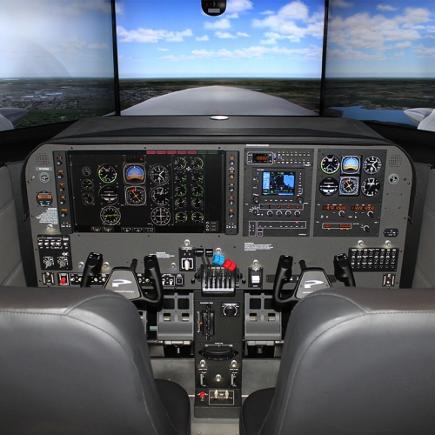 The GAJSC (General Aviation Joint Steering Committee) said training for Emergencies require Correlation Learning, Application, Understanding, and Rote/Memorization. Correlative learning is best accomplished through Scenario-based Training that provides realistic, complex problems to be solve in a controlled environment.
Practicing realistic emergency scenarios in a simulator is not only safer but in many ways it's better than an airplane. The results of an improper or inadequate response to emergency can be experienced safely – even if a crash is involved. With a simulation emergency you will experience what the emergency really looks like, not a pretend emergency or a soap dish over an instrument. Simulation emergency scenarios can be allowed to progress much further than possible in an airplane where the instructor must intervene in the interest of safety. Students can fly the entire event in a simulator providing a much greater learning environment.
Sims are also more efficient in learning, scenarios can be paused at any time for discussion or reset to the beginning of the scenario to practice the event again.
Our full motion simulator can be used in your flight training to help improve pilot skills and reduce cost. You can apply the following simulator times to certificate training :
Private Pilot Training: 2.5 hours
Commercial Pilot Training: 50 hours
Instrument Certificate: 20 hours
Instructor Rating: 5 hours
Airline Transport Certificate: 25 hours
IFR Proficiency Checks
FAA Safety Wings Credit
Fly the EAA IMC Club Scenario of the Month
Isn't it time that you become the best pilot you can be by adding Simulator Training?
Call 937-382-2889