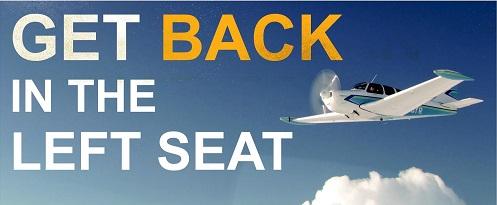 RUSTY PILOTS
BEEN OUT OF THE COCKPIT FOR A WHILE?
THERE is a way BACK!
Currently, Rusty Pilot Training is a popular subject around the general aviation community. There are printed publications, entire websites dedicated to it, Wing seminars are being held, and AOPA has a giant section on their web site. We are all trying to help you back into the left seat and enjoy the dream of flying once again.
If you're like more than 500,000 other pilots (that's right, half a million), you've may have taken a little breather from flying. It doesn't matter why you stop flying, what matters, you are ready to start back up.
One of the problems with Rusty Pilot Training is that flight instructors have a hard time with how to proceed with your training, since there is no defined curriculum. As a result, they tend to make the training more difficult than needed.
All you need is a Flight Review . That's it. No Check ride required. Once a pilot, always a pilot. You never have to take another test or worry about another check ride.
Depending on how long it has been since you flew, it doesn't take long to knock the rust off. The good news is that no matter how long it's been, we can help you get current. A little brush-up with our flight instructor, enough flights to demonstrate competence (minimum one hour), presto! – You're back in the air. Seriously, that's all it takes. Great Plains Enterprises has the experience, and the curriculum that will put you back in the seat. You can even get Wings credit for your training.
Our Rusty Pilot Course consists of:
Taking three internet courses at https://www.faasafety.gov

Each course takes about one hour.
You can do them at home, at your convenience.
You will learn a lot and have fun doing it.
These courses are free.

Three hours of one-on-one ground training.
Enough flight training to meet the airmen certification standards (ACS).
This will also serve as a flight review. And qualify you for a FAA Pilot Wings.
You Can Do This
Isn't it time you called Great Plains at 937-382-2889